SoliStat™ DC Thermostats
The solution for endless thermostat burnouts in DC applications.
The SoliStat 2 is an easy-to-use, long-lasting, and weatherproof temperature-controlled switch for DC-powered heating and cooling applications. It can switch up to 30 amps of current and runs on supply voltages from 6 to 24 volts DC. Its calibrated RTD sensor, microcontroller, and solid-state switch, all incorporated in a rugged and weatherproof housing, make SoliStat the most reliable one-piece, ready-to-use solution available for DC temperature control applications. SoliStat products are offered with an unprecedented 5-year warranty.
SoliStat is the only one-piece, ready-to-use temperature control solution available for use in these situations:
Direct current (up to 30A) is being switched
Extreme operating temperatures: from −40°F (−40°C) to +257°F (+125°C)
Operation is on voltages from 6 to 24 volts DC
Accurate trip-point temperatures below 32°F are needed
Low-power standby/shutdown mode is desired
SoliStat's advantages
No arcing means long-lasting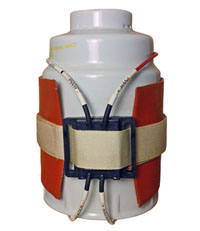 Because of its solid-state construction, SoliStat exhibits none of the arcing associated with the opening and closing of mechanical switches.
Solid-state reliability
The combination of RTD temperature sensing, solid-state switching, and weather-resistant construction ensures reliable and repeatable operation over the course of the SoliStat's life.
Wide range of setpoints and configurations

The standard configurations for SoliStat are:
O

n/off

control, factory-programmable lower and upper trip-points from −40°F to +257°F inclusive, ±1.0°F tolerance, minimum deadband of 3.0°F.
Fixed

on

-time control, factory-programmable trip-point from −40°F to +257°F inclusive, factory-programmable

on

time in 1-second increments.
Electrical Flexibility, Ease of Customization
SoliStat is available in many configurations. The following are our standard models. Other configurations are possible; please
contact us
to learn more.
| | | | | | | |
| --- | --- | --- | --- | --- | --- | --- |
| Model | Operating voltage range | Sensor channels | Sensor type | Output channels | Max. output current | Shutdown mode available |
| SoliStat 2-10 | 6–24 V | 1 | Internal RTD | 1 | 10 A | Yes |
| SoliStat 2-20 | 6–24 V | 1 | Internal RTD | 1 | 20 A | Yes |
| SoliStat 2D-5 | 6–24 V | 1 | Internal RTD | 2 | 5 A/ch | Yes |
| SoliStat 2X-15 | 6–24 V | 1 or 2 | K thermocouple | 1 | 15 A | Yes |
| SoliStat 2X-30 | 6–24 V | 1 or 2 | K thermocouple | 1 | 30 A | Yes |
| SoliStat 2XD-10 | 6–24 V | 1 or 2 | K thermocouple | 2 | 10 A/ch | Yes |
Applications
The SoliStat has been developed for DC-powered applications that require simple
on/off
control in response to changing temperatures, such as:
Transportation:

Fuel line and fuel filter warming
Operator comfort heating and cooling

Off-Grid Industrial uses:

Water line and filter freeze prevention with heat trace cable
Equipment cabinet warming
Instrumentation monitoring and temperature regulation
Specification Sheet
SoliStat 2-10 Product Features and Specifications