SoliStat™ 2-10 Thermostat for DC: Max. 10 Amps, 24V
SKU: K54####
Part №: 2-10
Availability:  
Built to Order
– Ships in 3–5 days from Minneapolis, MN.
Non-returnable.
Choose Temperature Setpoints
Switch on: Switch off: Units: Submit
The SoliStat 2 is a user-friendly, long-lasting thermostat for DC-powered heating and cooling applications. SoliStat is an all-in-one, ready-to-use temperature controller, incorporating a calibrated RTD sensor, a microcontroller, and a solid-state switching mechanism, all inside a rugged, weatherproof housing.
Model 2-10 Specific Features
Temperature measured through a metal heatsink on the housing via an RTD sensor
Two-wire output
Maximum current of 10 amps
Example applications: Heat tracing on pipes, enclosure heating
SoliStat's advantages
No Arcing: Because of its solid-state construction, SoliStat exhibits none of the arcing and consequent corrosion associated with the opening and closing of mechanical thermostats.
Solid-State Reliability: The combination of RTD temperature sensing, solid-state switching, and weather-resistant construction ensures reliable and repeatable operation over the course of the SoliStat's life.
Wide Range of Setpoints and Configurations: SoliStat models are available with maximum currents up to 30A, for heating-only or heat-cool (dual-channel) control, with internal or external temperature sensing, and with or without low-voltage power-saving (shutoff) mode. Check the SoliStat product family page to see all the models available.
Applications
The SoliStat has been developed for DC-powered applications that require simple
on/off
control in response to changing temperatures, such as: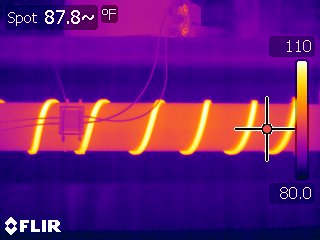 Off-grid industrial uses:

Engine component temperature regulation
Freeze prevention in water lines and filters, using heat trace cable
Equipment cabinet warming

Transportation:

Fuel line and fuel filter warming
Operator comfort heating and cooling

Hazardous areas
Specification Sheet
SoliStat 2 Product Features and Specifications