We will be closed Monday and Tuesday, December 24th and 25th, and December 31st and January 1st, 2019, for the holidays.
We will also be closed on Friday, December 28th for inventory.
High-Temperature Heating Cords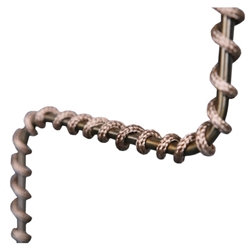 High-temperature heating cords can attain temperatures up to 1400°F. They're designed for use on small tubes, vessels, or anywhere that space is limited.
Features
Perfect for laboratory, production, or maintenance applications
Extremely flexible: can fit around pipes as small as 1/8"
Includes 9"-long (23cm) high-temperature tiedowns for easy installation
Custom sizes are available upon request
To place a custom order or for help deciding on the right item, call us at 866-685-4443, send us an e-mail, or fill out a contact form.