We will be closed Thursday and Friday, November 22nd and 23rd, for the Thanksgiving Holiday. We will be back on Monday, November 26th.
TSREH Enclosure Heaters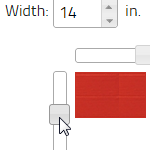 Silicone Rubber Heater Configurator
Configure your own built-to-order silicone rubber blanket heater, get an instant quote, and order online.
These heaters are designed to prevent condensation or freezing for electronics located within enclosures and control panels. Check out the specification sheet below for further information. If you have any questions regarding enclosure heaters please call us at 866-685-4443, send us an e-mail, or fill out one of our contact forms.